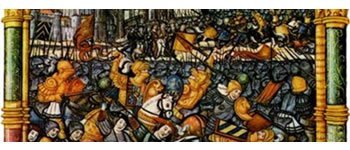 In the castle of Trolaró lived many warriors.
They were marquises, dukes, counts, barons… They didn't know how to work, they just thought about fighting.
The peasants worked for them: they gave them everything they needed to eat and even the oil for their shining armor.
On the day of the great celebration of the Castle of Trolaró, a showy tournament was organized: the warriors would fight with each other to see which one was the bravest.
Before the terrible fight, there was a parade of marquises, dukes, counts and barons.
The fighting has begun! Who would win?
D. Polycarp Picoalho, the fierce and hard Punisher, was the first to flee, full of fear and bleeding.
D. Fernando Arremacho, Marquis of Carambola, was slapped in the fool.
D. Antonio Sigesmundo Meireles y Torrado took a sword in his tail.
D. Mario the Olympian, Duke of Alghero, lay sprawled out on the floor.
D. Sancho, Baron of the Four Costados, was broken into a thousand pieces.
The Count of Corroios, D. Luís Simão, had a shining second-hand armor, but was now damaged.
After all who won?
Just a bunch of junk left
of what they were flashy armor.
Only metal frets were left
of helms, harnesses, dimensions of mail
all spoils, all junk.
After all who won?
It was someone who was not a warrior,
I was not count nor baron
I was not Duke or Marquis …
It was the junkyard that took the scrap
for the good can treasure! Luís Manuel de Araújo The Warriors of the Junkyard Lisbon, Plátano, 1982 adaptation