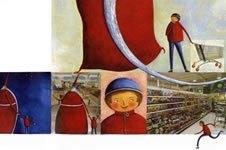 The house was all decked out. At the front door a wreath of holly with red balls and golden pinecones welcomed those who came and remembered the approaching date.
By the burning fireplace hung an embroidered cloth boot, and on her marble stone the mother had placed all the greeting cards.
The real tree had been replaced by a very green, rustling plastic one, dotted with stars and flashing colored lights. This year there was even some background music to cheer up.
On the 23rd, they went to wait for their father at the airport. Grandma Catarina came on the train from Coimbra and her uncles from Porto, loaded with children, bags, bags and packages, arrived almost at consonation time because they had caught a traffic jam on the motorway.
The table gleamed with the finest chinaware, crystal glasses and two silver chandeliers where slender flames burned, which rippled whenever cousins ​​raced around.
Rodrigo didn't even have dinner, despite the compliments everyone gave him. I was anxious for the decisive moment to open the gifts.
– Do you feel sick? They don't eat anything … – alarmed her grandmother. – Try the turkey, it's delicious.
As the cork on the bottle of sparkling wine hit the lamp, a general laugh echoed. But Rodrigo was looking at the clock hands. Ah, if they began to spin, to spin, to hurry to midnight soon …
How time passed to pass.
They sent the children to play in the bedroom after dinner, certainly not to meet Santa Claus, for the rogue prefers to come in step by foot without anyone seeing him. I wonder why?
Finally, just as the two hands came together on the dial, the twelve chimes rang in the distance.
The kids rushed into the room. Who could contain them? They fell on the pile of gifts, trying to decipher the name that indicated their happy possessor.
– Ana! Exclaimed Uncle Alberto, handing the younger cousin such a volume that she could barely hold it.
Everyone helped open it. It was a doll.
– Peter! It's for me! The eldest cousin enthused, tearing up the paper surrounding a motorway.
The mother, the father, the grandmother, Inês, took over all the packages on the floor.
– And I? – Rodrigo exasperated, already with a tear in the corner of the eye. "Didn't Santa receive my letter?"
Father and mother looked at each other, smiling.
– Looks like it's missing an envelope.
The boy got on his knees looking. Among ribbons, ribbons, torn papers, there he was, so insignificant that it went well unnoticed. He had written his name.
– Is it money? A check? He began to guess the boy. – Today Christmas parents should also be more practical … But no. It was really a letter. It said:
Friend of Rodrigo,
You were right in thinking that my reindeer couldn't carry all the gifts you asked for. I couldn't bring them in the giant truck because I don't have a driving license.
Since your dream was a hypermarket just for you, you're going to spend Christmas Eve in the biggest of all today. At dawn you can take home whatever you want. This wonderful night you will never forget.
In five minutes I'll be there to pick you up.
Santa Claus
– What a luck! Exclaimed his father.
– We have to go too! Demanded the cousins. But Santa had only made one invitation. Patience …
Rodrigo put on his anorak, a cap, put on his gloves because the breeze must have been cold, and his grandmother shifted her way out of the cold.
Trim, trim, trim! rang the bell.
They all ran for the door. There was the lord of Christmas, red, chubby, bonache, with long white beards.
"Just missing your present," he said. "I couldn't park my sleigh on this street because it's jammed with cars. Do you want to fly with me in the air to the terrace where I left them?
Rodrigo shivered. I was afraid of the heights …
"Can't we walk on the floor?" After all there is a hypermarket right around the corner.
Santa nodded, gave him his hand, and despite his heavy, tired stride, they soon reached the large glass doors.
How strange was the hypermarket without a soul … The space seemed even larger, the fluorescent lights illuminated the white walls, the whitish floor with a cool white. The huge shelves lined up like stationary carriages in a ghost station.
– Your wish has been fulfilled. You have all this just for yourself for one night.
I'll come get you when the sun comes up.
That said, as if by magical arts, the bearded old man disappeared.
Rodrigo started to run among the rows of cluttered exhibitors. Here were the objects of his dreams and many more that he had never thought of.
He raved on an electric motorbike, paraded down the street of detergents, oils, toilet paper.
He opened three boxes of chocolates and devoured them because he had barely tasted dinner. It clutched the pockets of chocolates. He threw himself a whipped cream cake and left no hint. To top it off he stuffed himself with raspberry ice cream.
He went to the television section where 50 sets broadcast the same program. Turned on the stereo at most. You tried to start a game console but did not follow the instructions.
He built a medieval castle, made a puzzle, a plasticine doll, and painted figures he had molded in plaster.
He tried black, blue, white, striped sneakers. He put on all the tracksuits. Which would be better for you?
It opened the monopoly game. He turned the table football figures. He threw the soccer balls into the air. Too bad to have no one to play with!
Without people, the hypermarket was getting cold.
It started to hurt her belly. That meal of sweethearts had not gone well with him …
He slid on a pair of skates and went looking for a carapour to drink water from the rocks. Didn't Grandma say that one of these little bottles would cure all stomach upset?
But where would they hide in the midst of so much trouble? I was dizzy reading labels and more labels.
His head was whirling, his legs trembling, he was unbalanced on his skates. Zás! It stamped on the mosaic and a trickle of blood began to trickle from his forehead.
– Who lacks me ?!
No one answered him.
He staggered over to a swivel chair from the computer section. He stuck a game in the slot of the machine. It was a fight against terrible monsters.
He tried to beat them, but the little soldier he moved was always caught in the clutches of his enemies.
It's cold! It's cold! It was looking for a blanket, which was just on the opposite end. Bad luck! You had to walk miles to find what you wanted.
If only there was a bed there … She saw sheets, comforters, towels. But of beds, no sign.
Where would the watch section be? I wanted to know the time. How long before I left?
Tried over 20 phones but all were disabled.
After all, he was stuck, stuck, stuck with a thousand things around him. It hit the thick glass. Neither winced.
– Santa Claus! Santa Claus!
No one answered him.
His nose was dripping. I was getting cold. He lit an electric radiator and squatted down to warm himself. He reached into his pockets for a handkerchief. All the nuts and sticky came: the chocolates she had stored there had melted with the heat. He wiped his hands on his pants. How horrible!
So, soiled with brown, it looked like … it looked like it hadn't made it to the bathroom in time. What a shame! What would the cousins ​​say when he returned? They would laugh out loud.
To wash his hands he went to the fishmonger, where a smell of cod and frozen fish hung around his guts.
By the minute he felt more unwell. He could grab millions of objects, but nothing interested him anymore.
I had to get away from that place. He went around the commercial space looking for another way out. Even the emergency doors were locked. He fetched a ladder and climbed to a high rear window. He slammed it open, slipped through the hole, slipping into the unknown.
It landed on a pile of crumpled cardboard boxes next to the crowded trash bins. There were boxes, plastics, outdated food packaging.
What a crap, the boy thought, even more agonized.
Suddenly he heard a creeping noise. Are they rats? Cockroaches? I was terrified of these animals. She was already running away when she heard meow slowly. It was a sound so faint you could barely hear it.
Rodrigo turned, heard the sound again, growing fainter as if he were almost silent forever. He found himself raising that junk in search of the owner of such a voice.
He pulled out the crumpled boxes, and inside the last, at the bottom of it, was a brindle kitten, with golden eyes, shining. As soon as he was free, he leaned against the savior's legs, trembling. It followed his steps like a shadow. The boy took the animal lightly and lightly and stuffed it into the anorak. He felt a frightened little heart beat next to his.
He advanced to the main entrance of the hypermarket, sat on the steps.
In the moonless sky the stars looked like little matches that invisible hands lit. Between them was a road of light. Was it the Milky Way? Was this the road Santa Claus traveled?
The kitten purred happily and began to play with the zipper on his jacket. Rodrigo was no longer alone.
A star streaked the sky. Where was she heading?
A very faint light lurked from the East. Then came, in the dim light, Santa Claus, rubbing his eyes sleepily.
– Christmas Eve is over. I'll take you home. Then I have a long way to go before I can go to sleep. What do you want to take with you? Choose from everything you saw your gift.
– It's here, it's my friend … – stammered the boy, showing the kitten.
The three of them followed through the early rays of dawn to their home, where a wreath of holly at the door welcomed them. Luísa Ducla Soares There's always a star at Christmas Porto, Civilization Publisher, 2006
Hacıoğlu Nakliyat company provides professional transportation services in the İstanbul evden eve nakliyat sector. There are corporate and safe transportation works throughout Istanbul and Turkey. In addition to transporting in all districts of Istanbul, it also provides services in offices located in the following districts. There are shipping offices in Kartal evden eve nakliyat , Kadıköy evden eve nakliyat , Maltepe evden eve nakliyat , Pendik evden eve nakliyat branches.