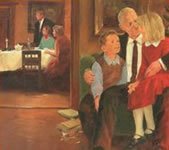 The only thing separating the two armies on that cold night of December 1914 was a piece of muddy land called No Man's Land. Suddenly a chant broke the icy air, celebrating Christmas in German, and then another followed in English.
For a while the enemies stopped warring and behaved like friends. It is estimated that about one hundred thousand soldiers took part in this unofficial Christmas truce.
It was a unique moment in the history of mankind.
The presents had been opened and dinner was over. After a long walk through the snow-covered fields, young Thomas snuggled close to his grandfather and said:
– Grandfather, this Christmas was my favorite. And you, do you have any favorite Christmas?
"Yes, Thomas," said Grandfather Francis. "I spent it a long way from home during the first winter of the Great War."
– Were you at war, grandfather? Asked little Nora, climbing into his lap. – Were you a hero?
The grandfather smiled and suggested:
– What if we start at the beginning?
The two children moved even closer to him.
"It was 1914. My companions and I had been on the battlefield for several weeks now. We felt alone and scared, although we tried to be brave. We had spent a long, cold month in muddy trenches, which were then our home.
We knew there would be no respite in the fight and we would spend Christmas right there. That Christmas Eve happened on a night like today. The skies were clearing and frost covered No Man's Land, the field that separated us from the German soldiers.
And here we were, before the enemy trenches, waiting … Apart from the bombs and the battles, the war consists in waiting. Wait to see who will take the next step. Tonight we felt it was going to be the Germans. And we were right. Suddenly a sentry signaled for silence and we were all silent.
It was then that a sound tore the cold of the freezing night.
The sound came from the enemy side of No Man's Land, and an English soldier who knew German said it was a Christmas carol. Soon all the Germans were singing the same song. When they were done, we decided to answer them with a Christmas carol we all knew.
Then the Germans chanted "Happy Night", to which we joined, with the lyrics sung in English. It was as if the whole earth sang the same song… I never thought singing was so sacred. Suddenly the watchman shouted:
– Someone is approaching!
And as we aimed our rifles into the darkness of December, we came across something extraordinary. A figure came to us through No Man's Land. In one hand was a white banner, and in the other a Christmas tree full of candles. It was such a surprising and courageous gesture that I couldn't help but leap from the trench and go to that soldier.
I was the first of many. Soon all the soldiers on both sides were out of the trenches. It was all so new and strange that at first we were nervous. After a short while, however, we exchanged little memories — chocolates, canned meat, everything we could share. When we showed each other photographs of home and family, we stopped being soldiers and enemies. We were just children and parents, away from family and home.
One of our boys brought an accordion and one of them started playing the violin. And we ended up improvising … a ball. It was a beautiful Christmas party! But dawn soon announced that we had to return. Return to the trenches, wait again. Think about what had happened to us and what our next step would be.
This is my favorite Christmas memory. Today I am a different man because of the boy I went to that night.
Grandfather hugged his grandchildren tightly.
– Was I a hero? I think that night we were all heroes. HISTORICAL NOTE
Although this tale is a fictional account, the Christmas truce of 1914 was a historical fact, and took place on the battle line between the Belgian coast in the north and the Swiss border in the south.
Four months earlier, at the beginning of the Great War, as World War I became known, millions of men across Europe had enlisted in response to the calls of their leaders. Many thought the war would be short and it would be over by Christmas. But by the time winter began, thousands of soldiers had already been killed or injured, and the harsh reality of the battlefield was over.
By December 1914, the Allied Forces (Belgium, France, and England) were at a standstill with the Germans, each side waiting for the other to capitulate. The troops were protected by hastily dug trenches. These narrow ditches, though deeper than the height of the soldiers, were little protection from the winter cold.
Between the two armies was a stretch of barren terrain called No Man's Land, wider than two football fields together. In some places, however, the interval between the two factions did not exceed 30 meters. In these places the enemies were so close that they could hear each other speak.
So close, many will have thought about what the enemy would look like. Would they be pleased to find themselves in those damp holes, fighting in the name of the Kaiser or the King, or would they rather be home? As Christmas Eve approached, many soldiers must have thought of home and peace. Some had received orders from the family with festive offerings. The royal families of Germany and England themselves had sent gifts to their troops, and Germany had even sent Christmas trees to the men fighting at the front.
That night many wanted to stop fighting for a few hours. Some even reported this event in diaries and letters. John McCutcheon; Henri Sørensen Christmas in the Trenches Atlanta, Peachtree Publishers, 2006
Evdiz Evden Eve Nakliyat, the best house moving company in Istanbul, provides home, office and piece goods transportation services to all over Istanbul and Turkey. istanbul asansörlü nakliyat , ataşehir evden eve nakliyat , pendik evden eve nakliyat , tuzla evden eve nakliyat , ümraniye evden eve nakliyat All of Turkey, especially its districts, are offered at affordable discounted prices.