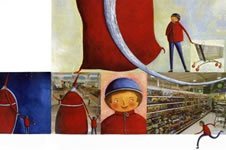 Rodrigo really liked going to the mailbox. As Christmas approached, it was always so crowded that some colored paper stuck in the long, narrow crack. The boy was pulling them, even before turning the key, in the enthusiasm of discovering wonderful things that he really wanted to buy.
He climbed into the elevator with half a dozen white envelopes, not funny, and a ream of publicity.
His mother would open the letters and set aside all the leaflets with a bored gesture.
– Garbage! She was annoyed.
Rodrigo never received correspondence. The father, who spent his life on travels, before still sent him postcards with monuments or landscapes. Now that he had bought a state-of-the-art mobile phone with a built-in camera, he would talk to her at night and show him at a glance a hotel room, a restaurant, the stretch of an unfamiliar city.
One afternoon, after reading the correspondence, his mother asked him:
"So, is your letter ready for Santa?" I hope you have written it in beautiful handwriting …
– Not yet. Can I choose whatever I want?
He was used to always getting into their requests. Suggested a new jacket and trousers, advised a bike to do more exercise.
But this time the mother was busy. I had to finish a report to present at a meeting. So he sat at the computer, dispatching it:
– Decide at your leisure. You are already grown up.
That's what Rodrigo wanted to hear. For the first time, it was free!
He sat at his desk in his blue room full of trolleys.
He felt paralyzed at the intact paper, ballpoint in hand.
His head was full of images and no one helped him make a decision. Wrote:
A radio
A spinning top
A flashlight
A new backpack
A box of chocolates
  
There were so many brands, so many sizes… What if Santa was mistaken?
Suddenly a fantastic idea came to him. She went to the bag where she stuffed the prospectuses that the teacher had kept for clippings and took some.
Many of the hypermarkets had small catalogs with toys only. He picked up a felt-tip pen and circled everything he wanted. They were pages, pages, more pages. Games, puzzles, cars, skates, masks, castles, zoos, slides, swings, a never ending doll.
I had no patience to copy everything by hand. Wasn't the father always saying that we must know how to use what modern times make available to us? He crumpled the first sheet and wrote again:
Dear Santa,
To make your job easier, this year I send you advertising flyers from hypermarkets. Thus excuses to walk from store to store.
I warn you that it is better to get a truck because your reindeer will not be able to weight. I find them very cute but you can send them to the zoo because they are very weak animals. The boys would win if, instead of the truck, they could even get a giant truck.
My address goes outside, where sender says.
I miss you and wish you Happy Holidays from the
Rodrigo
When I wanted to put all the paperwork in the normal envelope, it obviously didn't fit.
– Mom, I need a bigger envelope.
She was amazed. But he went to the drawer to get what his son intended.
However, however, Rodrigo had already started to open other leaflets.
"Oh, what a beautiful box of chocolates!" I can't lose them!
There were sweets and cakes of all kinds, crisp packets, popcorn, buttered cheeses, crispy pizzas …
He pulled out another leaflet.
And if you also took advantage of wheeled backpacks, brand name sneakers, tracksuits, soccer balls … Not to mention the comic books, the adventure books, the encyclopedia of the animal world … [ 19459002]
I felt my head spin in a whirl.
He pulled through another catalog full of game consoles, another with computers, a third of cell phones.
I could choose everything! All! All! It was crazy!
To send so much paper, the large envelope was not enough.
In a leap, he went to the grocery store and asked Miss Maria for an empty cardboard box. Luckily, she had just unpacked the sugar.
As soon as she gets to her room, she throws her huge supply of advertising papers into the box.
– Is something missing? He said to his buttons uneasily. He rummaged through his paperwork again.
Of course, there was no soda, coke, orange juice, chocolate and strawberry smoothies. I was sick of drinking water! He searched the hidden corners again.
– How could I forget about ice cream ?! What a great drought to always eat fruit for dessert because of the vitamins!
From the goldsmith's catalog he used only the page of the watches that were fantastic: gold, for holidays, for divers, for holidays, with chronometers, for races. Although he didn't like to get up early, he even took advantage of an alarm clock that sang a melody of birds.
When the supply was exhausted, she closed the packaging with tape and put the little card on top.
He dragged the heavy box into the living room where his mother watched television.
– What is this? She was amazed.
– My list for Santa. Didn't you say I could put whatever I wanted? I want everything, everything, everything! What I really wanted was a hypermarket just, just, just for me!
If there is Santa, you have to enjoy it!
A few days left for the holidays. At recess, colleagues talked about their dreams.
"I want magic equipment," said Joe.
– Me too! – soon cut Rodrigo.
"I want a popcorn maker," Rita was saying.
– Me too! Replied the boy.
"I want a computer game," said Mafalda.
"Well, well, I'll have all this and more!" Boasted our hero.
   CONTINUED …
   Luísa Ducla Soares There's always a star at Christmas Porto, Civilization Publisher, 2006