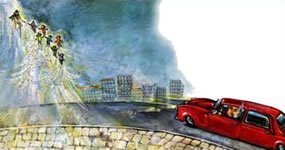 Mr Teotonius, who was rich, very fat and a big cigar smoker, was loading the car with the gifts he had spent the morning buying for his children, his nephews, and the many people with whom he was doing business. when a poor, old, thin man approached him, who promptly got this answer from him:
– Do not waste time with me because I have no money changed, no false beggars.
"But I asked you nothing," answered the old man serenely, with a smile that disarmed Lord Theotonius and his new-rich boast.
"So if you don't want to ask me anything, why are you so close to me while I load my car?" Asked Lord Teotonio between two cigar puffs that made the thin old man cough convulsively.
"I am here, my dear lord," he replied, already redone from his cough, "to try to understand what people give each other at Christmas."
"With what then," ironically concluded Mr. Teotónio, a great civil builder with interests from north to south of the country, "we have an observer here!" It must surely be from one of these international organizations that we pay with our money and we are not sure what they are for.
– You're very wrong. But now answer my question: What do people give each other at Christmas? Insisted the poor, old, thin man.
"Well, if you really want to know, I'll tell you." Those with possessions like me can buy an entire store, making everyone happy, starting at the merchants and ending at the people who will receive the gifts. Who is poor like you get to watch. Realized the difference?
The thin old man pondered for a moment about Lord Teotonius' dry and sarcastic answer, and then answered him with a new question:
– So what about the spirit of Christmas?
"What's that about Christmas spirit?" Asked Mr. Teotonius curiously.
"The spirit of Christmas," said the thin old man, "is what goes on in our soul this time of year, and it goes far beyond the gifts we give." For many people, the best gift can be a phone call, a caress or a phone call when you are alone.
"That was all I needed now," said Mr. Teotonius wearily, as he packed his last gifts in the trunk of his car, "to have a vagabond philosopher over here now to pass sentences."
The thin old man stepped away from the car, showing that he wanted no alms or anything else that Theotonius could give him, and went to a group of waiting children.
When Lord Theotonius passed them in the car, he heard a child's voice saying:
– Come on, Christmas Spirit, because we still have a lot to do today.
Saying this, the group rose into the air, fluttering with uncertain fate, dropping a luminous dust as it gained height in the gray December sky.
   José Jorge Letria The Tree of Christmas Stories Porto, Ambar, 2006