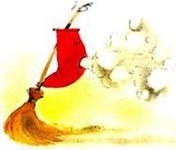 Once upon a time there was a broom that was studying for a vacuum cleaner. But without great results, let me tell you.
She worked hard, in Electricity classes and, above all, in Breath Gymnastics classes. Inspired … inspired … only inspired, but little progress in the matter.
From her grandmother, an old disused broom, only heard words of discouragement:
– Each one is for what is born, girl.
She revolted:
"Don't face me with whining, ma'am." Broom all your life and then end up in a corner, like Grandma, don't count on me. I was born for other flights.
One day it took a broom for a play – a story that made witches look like those with a scarf and an easel nose (cardboard, you see …). They were old-time witches, riding brooms and flying on stage (pretending, you know …).
They chose the aspiring broom.
"See, Grandma, how right I was," said the broom. – I will always change my life.
Because it has changed. It flew through the air like a trapeze bar to the sound of music and amid the cackling laughter of the witches in the play. Dazzled by the spotlights, she made a figure.
If my grandmother were here, she would have liked it, thought the broom very proudly.
It was a pity, but it wasn't. By the way, at home, the vacuum cleaner had broken down, and the one who did all the housework now was the old broom.
"If my granddaughter were here, she would help me," thought her broom grandmother rather disconsolately.
Grandmother and granddaughter eventually met. The career of the piece was over and the vacuum cleaner was ready.
Hanging both behind the pantry door, they rested from their emotions and labors.
"After all, you're back," the old broom said to the new.
"I didn't return anything," her granddaughter would answer. "I'm just waiting for them to hire me again."
"You're as unemployed as I am," said the old woman.
– I'm nothing. Now I'm a vacationing actress, you know.
There is a lot of broom genetics. António Toasted www.historiadodia.pt Adaptation