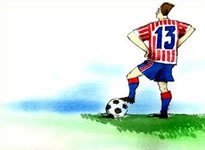 Today I will talk about football.
Once upon a time there was a player named Fear. A great player!
"Let's play Fear," the opponents said fearfully before the challenge.
But one day, he was injured.
"We're very weak," complained the teammates. – Without Fear is not the same.
They went to get the alternate. By chance, the boy was even called Nerves. It was Zé Nervos, not very good at dominating the ball, but with a power in the shot to turn the goalkeeper inside out.
His cousin, Chico Nervos, who also played, but in midfield, there was no one to supplant him as a playmaker.
"Guys, this tactic is all up to the Nerves today," the coach announced in the locker room. – With the Nerves attacking, we have victory guaranteed.
And they had.
In that game and in the next and the others that followed the success was thunderous. Opponents carried shocking abades.
"Don't you have any siblings or falling cousins ​​for football anymore?" Asked the two Nerves the coach. – If they do, I'll hire them. With the nerves all by our side, well controlled by me, we will be unbeatable.
As a matter of fact, they no longer had any sports-related relatives. They were the only footballers in the family. But they arrived.
– Nerves! Nerves! Nerves! Shouted the spectators in the stands.
It even seemed that the strength of the Nerves communicated to the other players.
The cousins ​​were so prominent that the newspapers almost forgot the names of the other footballers, the coach and the club itself, just to name the team titles like this: Nervos avalanche, extra Nerves, Nervos attack with enthusiasm and an exaggeration that – brr! – even unnerved.
However, Fear, that player who had been injured early in the story, has recovered. I was ready to play again.
The coach made some substitutions, some hits and, without dismissing the cousins ​​Nerves, sent Fear to come.
– On this floor, with a team of this level, we will win the Cup Winners' Cup Cup – said the coach, rubbing his hands and laughing.
Short laugh. The first game with the new formation was a disaster. The second game, a calamity. I can't talk about the third game anymore because I didn't watch it. Without at least a farewell dinner, the club leaders put me on the street.
Yes, I was the team coach, I forgot to warn at first.
After this crash, I never returned to a stadium. I changed my life.
I employed myself to write stories …
But one thing I learned from my stint in sports: with Nerves and Fear together, you can never win.
   António Torrado www.historiadodia.pt