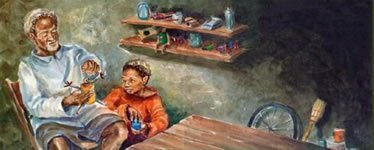 Bernardi ran hard, kicking the ball against the goal. With his arms moving and his heart pounding, he cared little about being the only boy on the field who didn't wear a school uniform. He loved football and his only concern was to score a goal.
At one point Bernardi kicked the ball so hard that it landed on its back as the ball flew past the goalkeeper and into goal. He lay in the grass catching his breath. A boy helped him up, then rushed into the school. Bernardi would also like to go to school like the other children. I liked to learn and thought I could be successful. He could also play soccer every day, not only when students needed an extra player. But neither he nor his grandfather lived with enough money to pay for a school.
Bernardi walked home, walking slowly.
When he arrived, his grandfather gave him a hug. It was his way of saying hello, since an illness had stolen his voice long ago.
"Hello, Babu," said Bernardi. – Today I scored a goal.
His grandson loved to tell the stories of his games.
Grandfather showed him a figure made of wood. He pulled a string and the doll moved his hands and arms at the same time, which made Bernardi laugh. Babu was a toy maker and it was enough for him to look once at a particular object to know what kind of toy it would become. From an empty can he could make a plane and from a piece of wood a whistle.
Bernardi sold the toys and the money they got gave them for a living.
Babu made tea for himself and his grandson. After sipping tea, Bernardi took a large bag from behind the door, said goodbye to his grandfather, and headed for the market. As he walked, he whistled to a tune his grandfather sang while still speaking.
– Is there anything for Babu? Bernardi asked the sellers when he hit the market.
Vendors used to give him bits of thread or paper to help the old man make toys. Aunt Valentina, who sold salt, called for Bernardi and gave her a plastic bag. The boy thanked him and stuffed the object into the large bag he had brought, although he did not believe it was of great use to his grandfather.
On his way home, he passed a downtown shop and stopped looking at the shop window. Between reams of cloth and shiny pots was a new soccer ball. Exactly what he had always wanted. He put his face to the glass and looked at the price. It cost more than a school application!
Slowly, she turned away from the shop window and headed home. This time without whistling.
That night Babu and Bernardi ate beans and rice in the light of the kerosene lamp and Grandfather put something on his grandson's plate. He took the object and examined it. It was a can of lard. Opening the lid, Bernardi heard a clink.
– A music box! Exclaimed the boy, listening again.
The sound of the melody was harsh and metallic, but his grandson recognized the song his grandfather once sang.
Bernardi hugged him and they both listened to the music. That night, for the first time, Bernardi fell asleep to the sound of Babu's song.
The following Saturday was a very busy day for Bernardi, because it was the day he sold toys to tourists. He settled in his favorite downtown corner, arranging the articles along the curve.
He cranked the music box and listened to Babu's song. He had already sold some things when a woman took the music box. He asked the price and Bernardi told him it was not for sale. However, the client didn't give up and said she wanted the music box to add to her collection. Bernardi declined again. It was then that the woman held out a bundle of notes and the boy's eyes widened in astonishment. That money was more than enough to buy the storefront ball!
Bernardi picked up the box, thinking about the brand new ball and how good it could be to kick it! Surely Grandpa could make another music box! He swallowed and accepted the money. After selling all the toys, she didn't go home soon. Instead, he headed to the shops across the street.
When she got home, Babu was cleaning. He looked at his grandson and the empty bag.
– I sold everything, Babu! Said Bernardi, trying to look cheerful.
But a tear rolled down her cheek. Grandpa went to him, wiped his tears and waited. He knew Bernardi would tell him what worried him. Grandson sniffed and told him about the music box and the football. Then he handed the money to his grandfather.
– I couldn't buy the ball, Babu. This is your money.
Babu patted her head. Then he put the money in his grandson's hand and squeezed it to show him that the money belonged to them both.
Bernardi said, head down:
– I don't want the ball anymore.
And gave the money back to his grandfather.
"Stay with him, Babu, and decide what to do."
The old man took the money and looked at his grandson thoughtfully. After a while, he smiled, asked Bernardi, by gesture, to stay home, and left. The boy was quiet waiting for his grandfather in the room. I wish you still had the music box. How could you sell it?
It was night when his grandfather returned, holding a paper bag in his hand. He took a package from the bag and gave it to Bernardi. He suppressed a sob. Then he unscrewed the thread and removed the brown paper. Her eyes widened when she saw that the package contained a school uniform!
– Did you pay my school registration? He asked his grandfather.
Babu nodded. The grandson jumped and hugged him.
While Bernardi held his uniform to his chest, Babu left again. When he returned, he had something hidden behind his back. It was a soccer ball made of thread and with Aunt Valentina's plastic bag.
Bernardi put down his uniform and took the ball. He patted his knee and saw that it was a real ball.
– Thank you, Babu. It's wonderful! She said to her grandfather, hugging him.
The old man was radiant and his grandson realized that this ball was even better than the one he had seen in the window!
Finally, Babu took one more surprise from the bag. It was an empty lard can. Bernardi boiled water and his grandfather began to make a new music box. Then he began tracing Babu's song while they waited for tea in the lamplight. Stephanie Stuve-Bodeen Babu's Song New York, Lee & Low, 2008 (Translation and Adaptation)