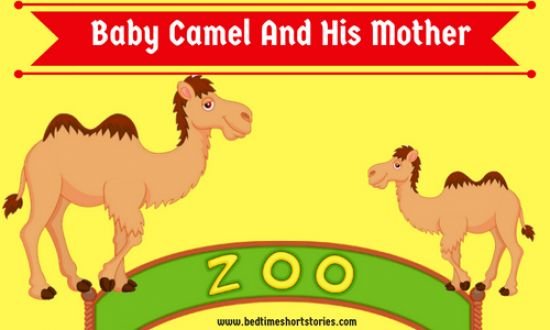 This is a nice animal moral story for kids to read. Once upon a time, there lived a baby camel with her mother. One fine day as they were lying on the ground, the baby camel was deep in her thoughts. When mother camel asked what was wrong with her, baby camel did not answer her. You may also like to read, How The Camel Got His Hump.
The next day, when baby camel could not resist anymore, she asked, "Why do the camels have humps?" The mother smiled and said, "Well, as we are desert animals, the humps help us to store the water for many days and because of this, we can survive without water".
animal moral story Image Source @www.bedtimeshortstories.com
The baby camel asked, "Why do camels have long legs and rounded feet?" To this, the mother said, "These are meant for walking in the hot desert. These long legs and rounded feet help the camels to walk in the desert better than anyone does!" The curious baby camel again asked, "Mother, why do we have long eyelashes? Sometimes it bothers my sight". Mother camel with pride replied, "My dear child, these long thick eyelashes are your protective cover. They help us to protect the eyes from the desert sand and wind".
Baby Camel after thinking said, "Oh, I see. The hump helps us in storing the water when we are in the desert, the legs are for walking through the desert and these eyelashes protect our eyes from the desert than what in god's name are we doing here in the Zoo?" This time, mother camel went speechless. You may also like to read, The Camel And The Jackal.
ANIMAL MORAL STORY: ABILITIES, EXPERIENCES, KNOWLEDGE, AND SKILLS ARE ONLY USEFUL IF YOU ARE AT THE RIGHT PLACE.
amazing animal stories, animal bedtime stories, animal stories, animal stories for children, animal stories for kids, animal tales, funny animal stories, jungle animal stories, jungle stories, jungle story for kids