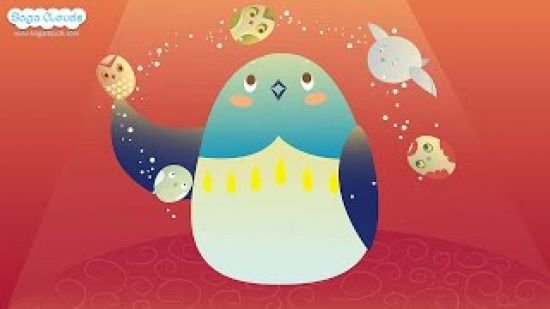 This is one of the best animal stories with moral values for kids. Near the forest, there was a flowerpecker family living happily together. They were the father bird, the mother bird and the lovely little flowerpecker.
One day, sparrow was flying by when she saw flowerpecker. She exclaimed, "Wow, little flowerpecker! You are so adorable! Your feather looks stunning! " Hearing that, flowerpecker was delighted. She ran inside, admire herself while looking at the mirror and giggled. You may also like to read, The Deceitful Bird.
animal stories with moral values Image Source @hqsongs.com
Since then, little flowerpecker was dressed up in dressing up and making up. She refused to her her parents with find food and chores. She was afraid that those works would make her beautiful feather dirty. Being carefully kept, the flowerpecker's feather became even more gorgeous.
Every time she showed up, all the other birds complimented her pretty feather. This made flowerpecker more and more arrogant and she usually criticized others. Especially dove, her best friend, was not even an exception. "You are getting uglier! No one is going to hang around with you," said flowerpecker to dove. Hearing that, dove didn't say anything and sadly flew away.
Flowerpecker became more and more arrogant. Believing that her feather was the most beautiful, she never stopped criticizing whenever she saw someone. No one liked to be her friend anymore. Whenever flowerpecker flew down to other birds to play with, all her friends flew away and left her alone.
After some time, flowerpecker realized how lonely it would be if she didn't have any friend. She became sad and soon decided to go home. There, she told her mother everything. After listening to her, mother flowerpecker said gently, "It's because you have been too arrogant. You keep criticizing one friend to another. Everyone has their own strong points. You and your all friends are beautiful. You must go t their houses to say 'Sorry', especially to dove, your best friend."
Listened to her mother, flowerpecker went to all his friends' houses to say 'Sorry'. Seeing how sincere flowerpecker was, all of them forgave her. All of them happily flew to the sky. Also, read The Story Of A Blue Bird.
MORAL OF THE STORY: IN LIFE, YOU NEED TO BE MODEST. NO MATTER HOW BEAUTIFUL YOU ARE, YOU SHOULD NEVER LOOK DOWN TO ANYONE.
Here is a short visual depiction of one of the best animal stories with moral values "The Arrogant Flowerpecker". See the video story below,
Animal Stories With Moral Values Video